The phrase "use it or lose it" is widely used, but how often do we consider the many ways it can be applied? At its core meaning, it offers us that if you don't continue to practice or use an ability, you might lose that ability. For example: If a person doesn't exercise their physical body, they will likely lose strength, stamina and endurance. The same applies to a person that doesn't practice a new skill, whether it is learning to drive, speaking a foreign language, etc. they may forget or lose those skills entirely.
At Harbor Heights, we often describe ourselves as "active 55+" but what does that really mean? Quite simply, we're not going to lose it, we are going to use it! Staying active should always be a priority – especially when you cross the proverbial threshold of over 50 years old (See what we did there? Vs. using the words aging, retirement or baby boomers). Regular exercise slows the aging process, works out the mind and body, relieves stress, and keeps the immune system in tip-top shape. According to Dr. David B. Agus, the author of The End of Illness, he states that in addition to wearing comfortable shoes and eating lunch at the same time every day, activity with our body, and consistently moving it, are keys to living a longer life. The book offers simple and inexpensive advice as well as fascinating research about reducing inflammation in the body and taking a proactive approach to staying healthy. If you read to keep your brain active, you may also want to explore these other titles on building more active bodies.
Moving to a community that is considered mature, 55+ and even ultra-wise is just the beginning to increase activity levels and even exercise. There are plenty of ways to stay active right here at Harbor Heights and around Olympia. See below for a few of our favorite ideas!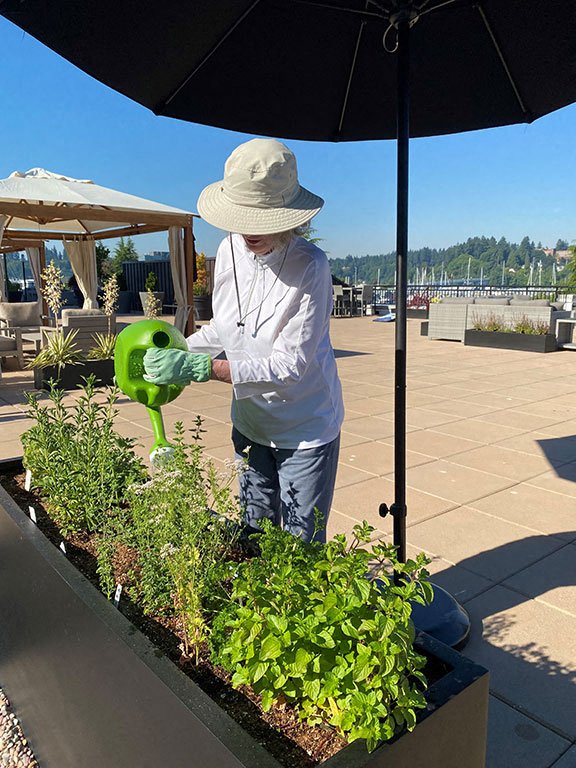 Bocce ball! Ever played? It's easy and fun. You can find bocce ball sets online just about anywhere. Get together a group of people, find a grassy area and it's game on! You can even set up a round robin tournament to really get people into the competition.
Gardening, though not exactly high-intensity cardio, is a great activity that gets you up and out into the sunshine. Our community has a gardening club, you can reach out to our concierge desk for more information.
Dreaming of Wimbledon? Tennis is a great workout for all ages. It's a total body exercise and also strengthens the legs and arms. Grab a friend or three (for a doubles match) and get a rally started. Just have fun volleying the ball back and forth across the net or get more competitive and start a league of your own! Woodruff Park Tennis Court and Volleyball Court is located at 1500 Harrison Ave NW, Olympia, WA 98502 and the courts there are rarely used.
Swimming, like tennis, is an all-body workout for people of any age. It's a very low impact sport, so you won't be feeling the aches in your bones and the strains in your joints. It's also a very cathartic exercise and can really help you to stave off stress. Do some laps, grab a kickboard and do some kicking, grab some fins to really propel yourself through the water, do some water aerobics with friends in the shallow end, etc. Even just walking back and forth from wall to wall in the shallow end is a great exercise for your legs with very little negative impact on the joints. Check out these local watering holes.
Volunteering—staying active doesn't necessarily have to mean that you are working out your muscles and sweating up a storm every day. But if you want to, our fitness center located on the 3rd floor is ready and waiting! If it becomes too crowded or you want something less intensive, staying active can be as simple as getting on your feet and volunteering a few times a week. You may consider helping out in the local library or local homeless shelter. What about organizing a talent night where residents can perform and even invite family members to come show off their talents? That planning and preparation will certainly get you up and active!
Go for a walk or a jog. Most 55-plus communities offer golf, walking trails or some sort of local paths. We have Percival landing and lots of options for walking paths or jaunts in running shoes along the water. Consider finding a walking buddy and set a time two or three days a week (or as often as you want!) to meet up at a designated area and do some power walking! It's a great exercise, a great time for catching up, and a great way to meet others. Plus, we are about to be a part of a fun run and walk. The Hawks Prairie Community Association which encompasses both Edgewater and Jubilee will be putting on a Fun Run/Walk on Saturday September 4th starting at 9:00 a.m.
No matter what it is you're doing – swimming laps, volunteer activities, shuffleboard, croquet, corn hole – what matters is the fact that you're getting and staying active. We welcome you to get your steps in and come tour Harbor Heights to see what our community offers for staying active at all ages. Click here to schedule a tour.